It is difficult to watch or read the news without hearing about political divisions in the US. Whether
they're talking Democrats, Republicans, Libertarians, or the Green Party, there seems to be a lot
of disagreement out there. However, we here at MSW●ARS Research have discovered factions you
may not have even known existed until now – with consumer categories. As a fun repurposing of the
data we collect using our Brand Strength Monitor platform, we are getting to the bottom of
this – one category at a time.
Throughout the 2016 US Presidential Election season we're sharing some "voting" results. Instead of the
traditional red state/blue state/swing state format, we're looking at "voting" results for some of
the more than 60 categories on The Brand Strength Monitor Dashboard to determine which brand would
win an election versus its category competitors.
Instead of simply looking at the "popular vote" across thousands of respondents, we decided it would
be a lot of fun to look at results by state Electoral College votes – similar to how the US actually
elects its president every four years.
Thus far, we have included maps for the following categories:
This week's category is Auto Insurance.
We probably do not need to tell you that competition is heated in this category – it is difficult not to encounter advertising for one or more brands in this one on a daily basis. As a result, we do not have a "clear" winner with at least 270 electoral votes, so this election would be heading to the House of Representatives for the top three brands to duke it out.
State Farm is the current leader with 245 electoral votes and outright wins in 26 different states.
Sometimes electoral maps can be deceiving, and that is definitely the case this week. While it is certainly not surprising that State Farm has the most electoral votes, it is surprising that they lead the second place brand by 140 electoral votes. The popular vote would suggest a tighter margin, but credit is due to State Farm for being able to pull off close victories in so many states.
State Farm's wins are far and wide as they stretch from coast to coast with wins in the large states of Pennsylvania in the East, Ohio and Michigan in the Midwest, Georgia and North Carolina in the South, and Washington and Arizona in the West.
Though they win over half of the states, they do not win some of the largest states such as California, Texas, New York, Florida, and Illinois, which keeps them from being able to seal the deal on a 270+ electoral vote haul.
Allstate sits in second place with wins in six different states totaling 105 electoral votes.
Based on their popular vote standing, one would expect Allstate to be much closer to State Farm. However, they get silver or bronze to State Farm's gold in quite a few states, which keeps them from adding more electoral votes to their column. The winner-take-all system benefits State Farm much more than Allstate.
Even with all of that said, Allstate is able to win Texas, Illinois, New Jersey, Virginia, South Carolina and Maryland, which allows their tally to exceed 100 and is good for second place.
AAA snags third place with wins in five different states totaling 79 electoral votes.
They can thank California and its 55 electoral votes for over two-thirds of their winnings. Massachusetts is their second-biggest win.
Geico narrowly misses out on third place with 73 electoral votes and wins in five states plus D.C.
Like AAA, Geico makes the most out of their wins by taking both Florida and New York, which are two of the four states with the largest populations and thus electoral vote counts.
The rest of the winners take either one or two states. Progressive nabs two Midwestern states for 10 total electoral votes. Also with 10 is American Family Insurance as they take their home state of Wisconsin. USAA only takes Connecticut despite having strong showings in many other states. Amica, a company with a strong presence in New England, wins outright in New Hampshire. Safeco takes Montana and its three electoral votes.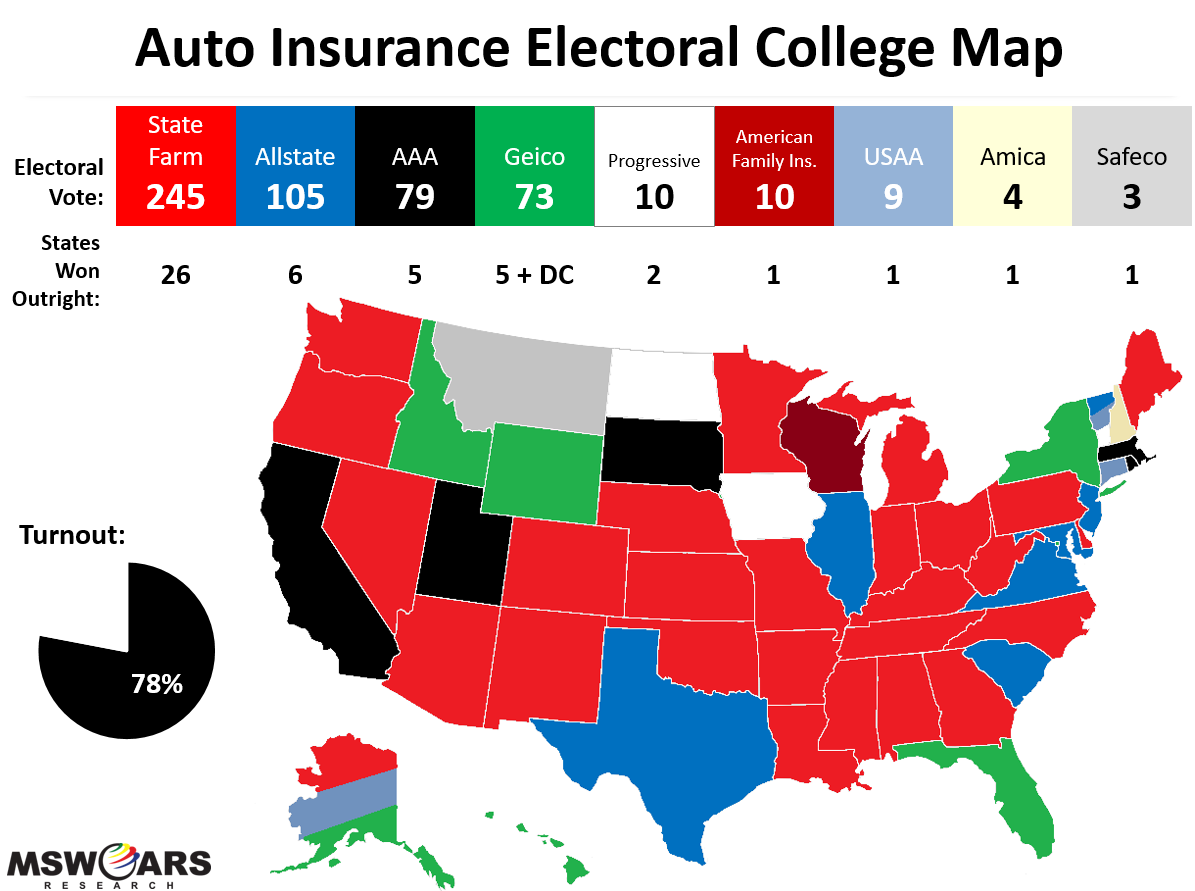 The brands included in the Auto Insurance exercise are:
American Family Insurance
MSW●ARS is already tracking this data for the following categories. Let us know if you see
one you are interested in, or if you would like us to begin tracking your category:
Antiperspirants/Deodorants (Women)
Antiperspirants/Deodorants (Men)
Bleach or Laundry Whiteners
Cable or Satellite TV Subscriptions
Casual Dining Restaurants
Facial Moisturizers for Women
Online Movies/TV/Video Streaming Services
Products from a Big Box Retailer
If you see some data you would like to see expanded upon, please send us a note at sales@thebrandstrengthmonitor.com.
Thank you for reading and we will continue to release maps for new categories as the 2016
US Presidential Election approaches.