It is difficult to watch or read the news without hearing about political divisions in the US. Whether
they're talking Democrats, Republicans, Libertarians, or the Green Party, there seems to be a lot
of disagreement out there. However, we here at MSW●ARS Research have discovered factions you
may not have even known existed until now – with consumer categories. As a fun repurposing of the
data we collect using our Brand Strength Monitor platform, we are getting to the bottom of
this – one category at a time.
Throughout the 2016 US Presidential Election season we're sharing some "voting" results. Instead of the
traditional red state/blue state/swing state format, we're looking at "voting" results for some of
the more than 60 categories on The Brand Strength Monitor Dashboard to determine which brand would
win an election versus its category competitors.
Instead of simply looking at the "popular vote" across thousands of respondents, we decided it would
be a lot of fun to look at results by state Electoral College votes – similar to how the US actually
elects its president every four years.
Thus far, we have included maps for the following categories:
This week, we will be evaluating the Home Owners/Renters Insurance category – continuing the insurance theme we began last week with Auto Insurance. This category includes many of the same players as Auto Insurance, but it is even less clear who the leader is. In fact, the first place brand barely reaches 200 electoral votes.
The current leader is Allstate with 207 electoral votes and wins in 15 states plus the District of Columbia.
Despite winning nine fewer states than the second place brand, Allstate is able to come away with a plurality of electoral votes. While this does not come close to clinching the 270+ needed to win the presidency – it does give them bragging rights heading into what would likely be a heated debate in the House of Representatives.
Half of Allstate's wins occur in the Northeastern part of the country (Maryland/DC and up), so this region appears to be their biggest strength within this category.
That said, Allstate secures three huge wins outside of the Northeast in Texas, Florida, and Illinois – three of the most populous states in the union.
If you are looking for opportunities for Allstate, they do not have the same rate of success in the South or west of Texas.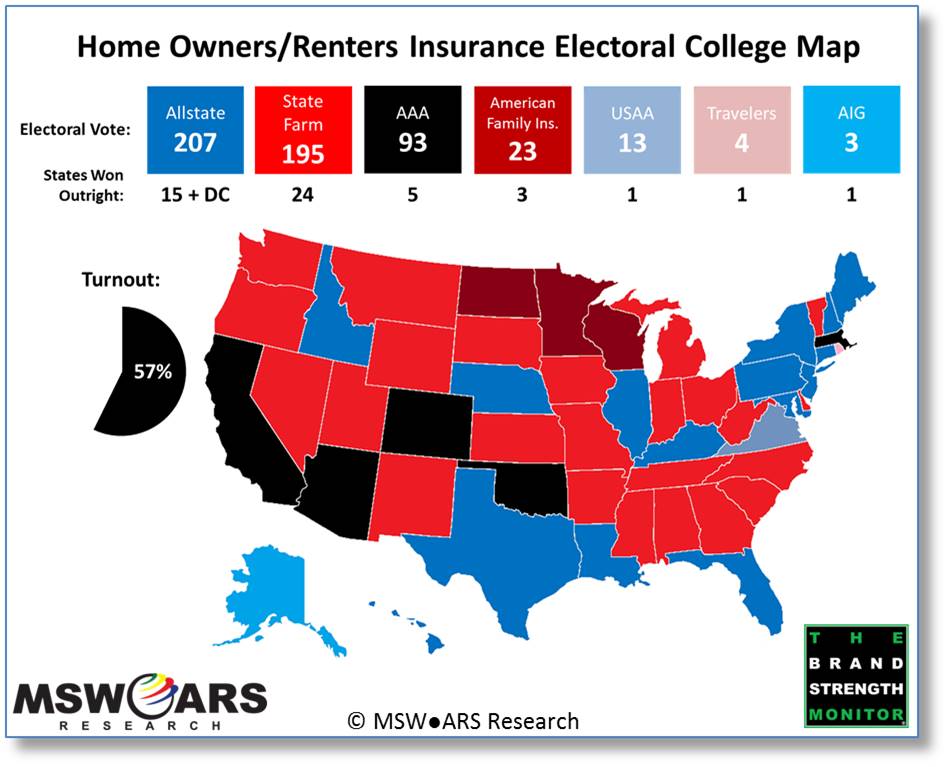 Second place, and switching places with Allstate from their positions in Auto Insurance, is State Farm with 195 electoral votes and wins in 24 different states.
State Farm does well in the South, eastern Midwest, and the Northwest, though their wins spread from coast to coast.
They win in medium-large states such as Ohio, Michigan, Georgia, and North Carolina.
The biggest problem for State Farm is that they come up empty in the largest states. California, New York, Texas, Florida, Illinois, and Pennsylvania each go to competitors, and unfortunately for State Farm, all but California go to Allstate's column.
Third place, just as they were for Auto Insurance, is AAA with 93 electoral votes and wins in five different states.
Again, AAA is able to win California, the most populous state in the country. This helps pad their total tremendously.
AAA is also able to pick up wins in three other western states: Arizona, Colorado, and Oklahoma. Their final win occurs well outside of that area in Massachusetts.
Fourth place is American Family Insurance with 23 electoral votes and wins in the contiguous Upper-Midwestern states of Wisconsin, Minnesota, and North Dakota.
When compared to their showing in Auto Insurance, they are able to win more than just Wisconsin in this category by expanding westward.
They also have very respectable double-digit vote percentages in South Dakota, Missouri, and Washington state.
Fifth place is USAA with 13 electoral votes via their victory in the commonwealth of Virginia.
Their military affiliation likely bodes well in Virginia, which has a large number of military bases and personnel.
Sixth and seventh places go to Travelers and AIG, as they pull Rhode Island and Alaska, respectively.
The brands included in the Home Owners/Renters Insurance exercise are:
American International (AIG)
Citizens Property Insurance Corp
American Strategic Insurance (ASI)
MSW●ARS is already tracking this data for the following categories. Let us know if you see
one you are interested in, or if you would like us to begin tracking your category:
Antiperspirants/Deodorants (Women)
Antiperspirants/Deodorants (Men)
Bleach or Laundry Whiteners
Cable or Satellite TV Subscriptions
Casual Dining Restaurants
Facial Moisturizers for Women
Online Movies/TV/Video Streaming Services
Products from a Big Box Retailer
If you see some data you would like to see expanded upon, please send us a note at sales@thebrandstrengthmonitor.com.
Thank you for reading and we will continue to release maps for new categories as the 2016
US Presidential Election approaches.