It is difficult to watch or read the news without hearing about political divisions in the US. Whether
they're talking Democrats, Republicans, Libertarians, or the Green Party, there seems to be a lot
of disagreement out there. However, we here at MSW●ARS Research have discovered factions you
may not have even known existed until now – with consumer categories. As a fun repurposing of the
data we collect using our Brand Strength Monitor platform, we are getting to the bottom of
this – one category at a time.
Throughout the 2016 US Presidential Election season we're sharing some "voting" results. Instead of the
traditional red state/blue state/swing state format, we're looking at "voting" results for some of
the more than 60 categories on The Brand Strength Monitor Dashboard to determine which brand would
win an election versus its category competitors.
Instead of simply looking at the "popular vote" across thousands of respondents, we decided it would
be a lot of fun to look at results by state Electoral College votes – similar to how the US actually
elects its president every four years.
Thus far, we have included maps for the following categories:
This week's category is Life Insurance products.
As we have seen with our previous entries for insurance categories, Life Insurance is highly competitive and no brand is able to eclipse the 270+ electoral vote hurdle. In fact, the leader in this category actually does not even hit 170. Two brands win impressive numbers of states, but they also lose crucial large states such as California, New York, and Florida to brands that finish lower on the list, which keeps any singular brand from dominating.
AARP leads the category with 164 electoral votes and wins in 14 different states.
The strengths for AARP occur in the Midwest with a band of states extending from Michigan to Nebraska, and the South with wins in Texas, Louisiana, and Alabama.
Other highlights include wins in the Northeast with New Jersey, Massachusetts, and Maryland.
AARP does not fare as well when you move from the central part of the country, which keeps them from being able to approach the 270 hurdle.

State Farm secures second place with 123 electoral votes and wins in 15 different states. This means State Farm achieves at least second place in each of our insurance categories (first in Auto, second in Home Owners/Renters).
State Farm does well in the middle of the country with wins in Ohio, Indiana, and Minnesota as well as the South with the Carolinas and Tennessee, among others.
Like AARP, State Farm does not do as well in the West, which keeps them from getting closer to 270. In addition, State Farm also has opportunities in the Northeast (only win is in Vermont).

Allstate comes in third with 91 electoral votes and wins in eight different states.
This includes wins in Pennsylvania, Georgia, and Virginia in the East, and Arizona, Washington, and Colorado in the West.
Allstate has the reverse opportunity of AARP/State Farm where they do not do well in the middle of the country.

AAA picks up fourth place with 75 electoral votes and wins in five states plus DC.
As we have seen with both of the other insurance categories, AAA is able to secure California and its 55 electoral votes, which immensely helps their total.
Other than California, AAA's next biggest win is in Connecticut.

Gerber Life takes fifth place with 70 electoral votes and four state wins.
Like AAA, Gerber Life makes the most of their few wins as they take home some of the biggest prizes in New York and Florida.
They also snag a pair of western states – Nevada and Utah.

The rest of the brands getting on the board either win one or two states:
MetLife is able to secure wins in the two New England states of Maine and New Hampshire.
Prudential (Hawaii) and The Hartford (Montana) each win one state.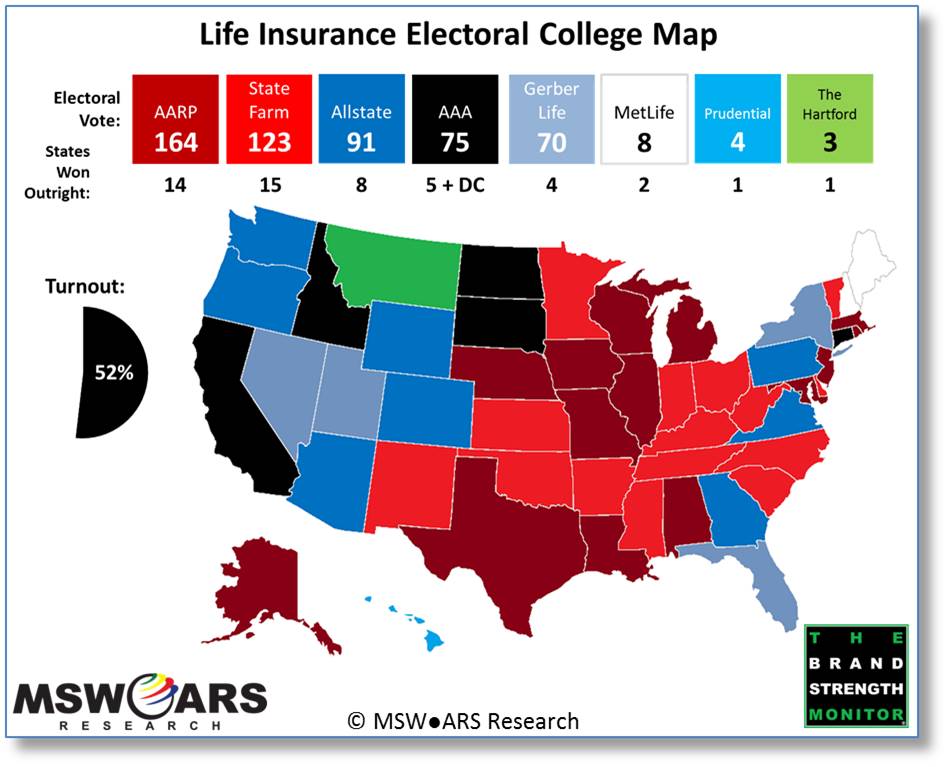 The brands included in the Life Insurance exercise are:
State Farm
AARP
Allstate
AAA
Gerber Life
Other
Aflac
MetLife
Nationwide
Prudential
New York Life
The Hartford
Mutual of Omaha
ING
Colonial Penn
Globe Life
Thrivent
Lincoln National
Northwestern Mutual
TIAA CREF
Banker's Life
Genworth Financial
John Hancock
Guardian
Principal Financial Group
Massachusetts Mutual
Cuna Mutual Group
Physicians Mutual
MSW●ARS is already tracking this data for the following categories. Let us know if you see
one you are interested in, or if you would like us to begin tracking your category:
Antiperspirants/Deodorants (Women)
Antiperspirants/Deodorants (Men)
Bleach or Laundry Whiteners
Cable or Satellite TV Subscriptions
Casual Dining Restaurants
Facial Moisturizers for Women
Online Movies/TV/Video Streaming Services
Products from a Big Box Retailer
If you see some data you would like to see expanded upon, please send us a note at sales@thebrandstrengthmonitor.com.
Thank you for reading and we will continue to release maps for new categories as the 2016
US Presidential Election approaches.