It is difficult to watch or read the news without hearing about political divisions in the US. Whether
they're talking Democrats, Republicans, Libertarians, or the Green Party, there seems to be a lot
of disagreement out there. However, we here at MSW●ARS Research have discovered factions you
may not have even known existed until now – with consumer categories. As a fun repurposing of the
data we collect using our Brand Strength Monitor platform, we are getting to the bottom of
this – one category at a time.
Throughout the 2016 US Presidential Election season we're sharing some "voting" results. Instead of the
traditional red state/blue state/swing state format, we're looking at "voting" results for some of
the more than 60 categories on The Brand Strength Monitor Dashboard to determine which brand would
win an election versus its category competitors.
Instead of simply looking at the "popular vote" across thousands of respondents, we decided it would
be a lot of fun to look at results by state Electoral College votes – similar to how the US actually
elects its president every four years.
Thus far, we have included maps for the following categories: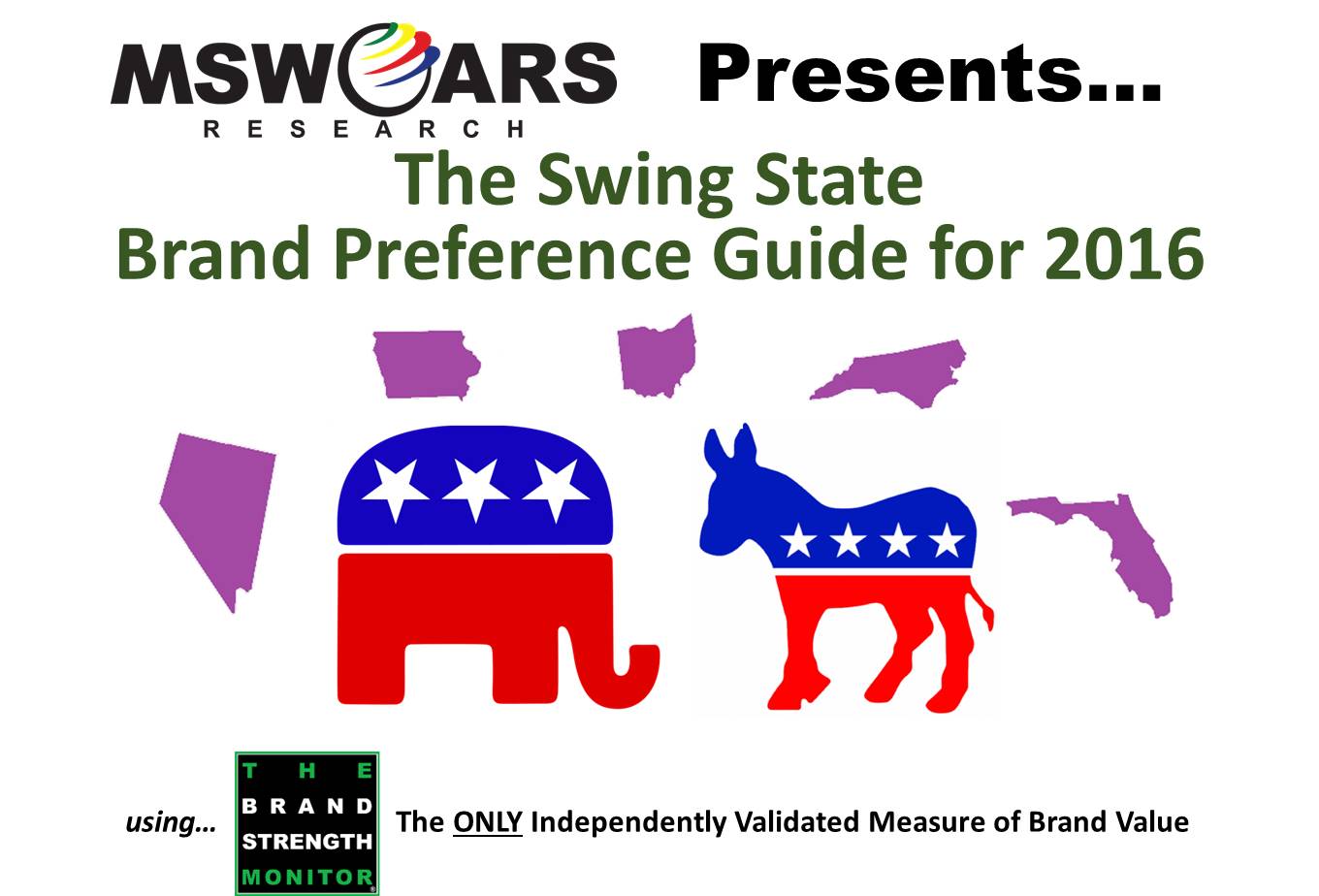 If you have seen any of our dozen+ "Brand Election" results released in recent months, you know we here at MSW●ARS Research are excited for Election Day. As the final day of the 2016 US Presidential Election season trickles away, candidates are going to be looking for ways to maximize their time before all votes are final. This will drive them to spend more time in states where the margins are close: swing states. Naturally, we wondered what brand placements could help benefit the candidates in relating to voters in each swing state. To do this, we used our Brand Strength Monitor data (the only independently validated brand value metric) to determine which brands over-index the most with voters' brand preference in each swing state.
Sure, the candidates could just cater to obvious state-specific cues such as wearing scarlet and grey in Ohio, but these brand placements may offer something more subtle that undecided voters have not necessarily seen before.
Hillary/Donald/Gary/Jill, listen up, you're going to want to take notes!
A few explanations before we get started:
How we determined the states
Declared "swing states" can often vary by polling company and political pundit. We settled on five that are generally accepted by just about every reputable firm as being "swing states" for their statewide results: Florida, Ohio, North Carolina, Iowa, and Nevada.
Some other states traditionally thought of as being "swing states" were not included mostly due to the following two reasons:

Virginia and Colorado do not appear to be very close in 2016 relative to other recent Presidential elections.
Arizona is traditionally not a "swing state," but appears close in 2016. By most indications, if Arizona "swings" in 2016, then the general election winner will likely already be a foregone conclusion.
How we determined the brands for each state
Using Florida as an example, we took the preference agreement across our 60+ categories and 1,300+ brands and found the brands with the largest difference between Floridians and the rest of the US. Any brands you see on these maps are in approximately the top 2% for over-indexing in each state.
As a caveat, this does not necessarily mean each brand included is the most popular in the state, rather that it is disproportionately popular in that state versus the rest of the US, on average.
"Cutoffs" for what we determined as meaningful enough for inclusion varied by state – as populations and sample sizes are drastically different from Florida to Nevada.
Other notes
This exercise is based on brand preference data we have been collecting solely in 2016 for 60+ categories and 1,300+ brands.
Each brand in this exercise has national share requirements they must meet for inclusion, so these are mostly brands with a national (or very strong regional) footprint.
It is possible for a state to have more than one brand in a category over-index with its voters.
Without further ado, let's get to the states!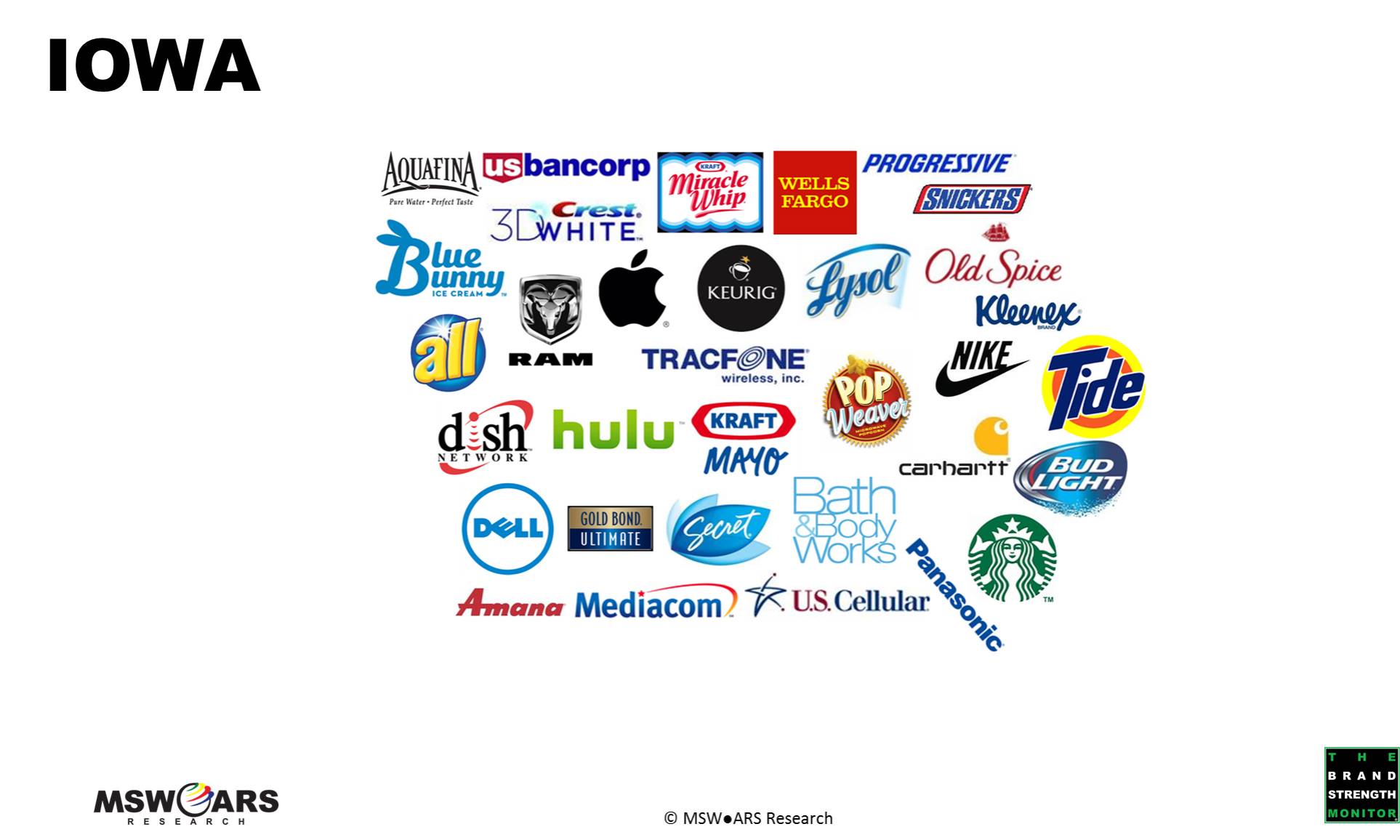 The first state we will cover is no stranger to going first, as every four years they hold the first contest in the party nomination process. Iowa possesses six electoral votes and polls show that it is very much up for grabs in 2016.
If candidates are looking to show local brand support, then they could enjoy some Blue Bunny Ice Cream, which is based out of Le Mars, Iowa. They could also talk positively of Amana appliances, which is headquartered in Newton, Iowa.
Other brands with strong Midwest ties are also popular in Iowa, including US Cellular, Pop Weaver, Kraft (including Miracle Whip), and US Bank.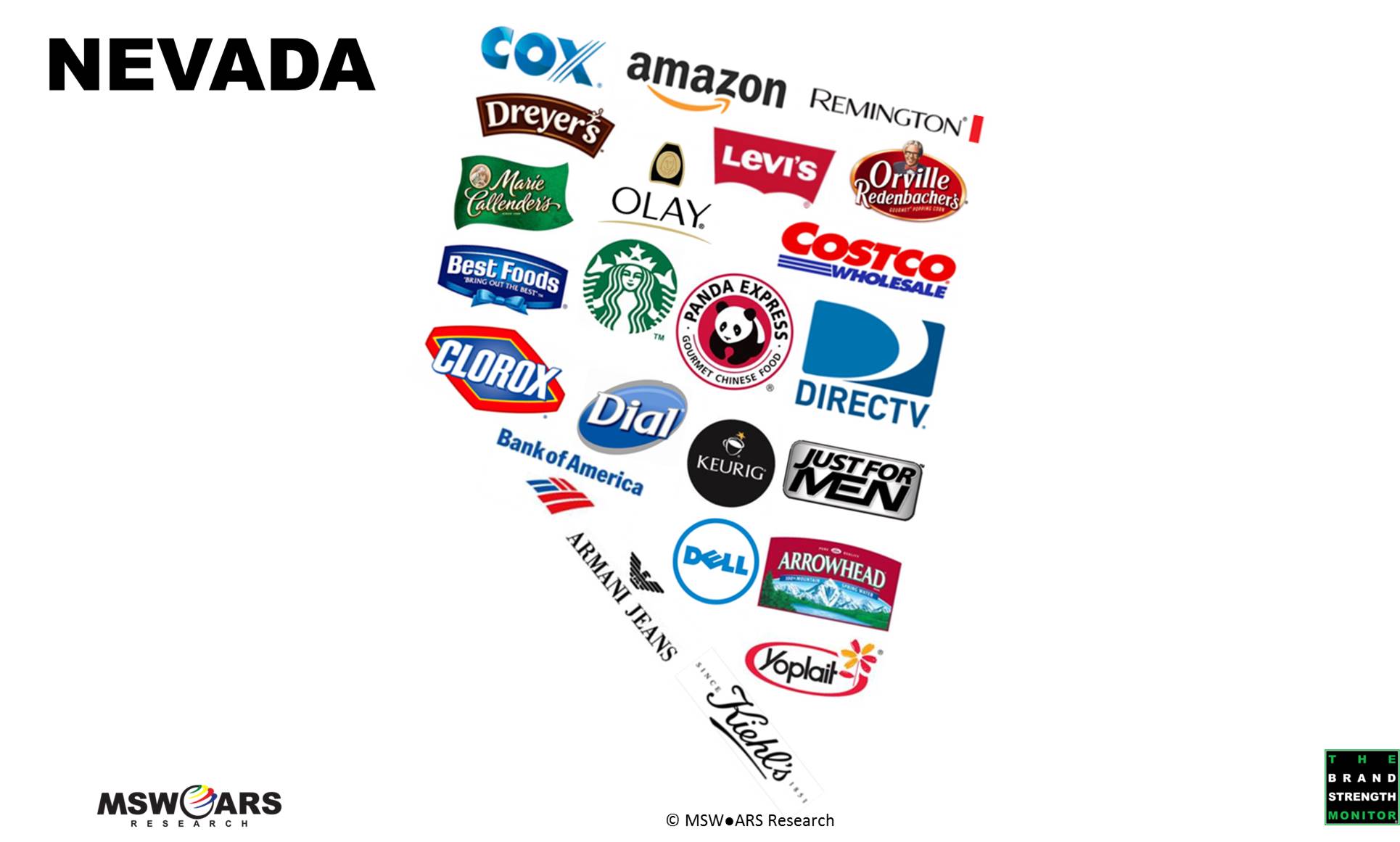 Next, we will visit the westernmost swing state, Nevada. They also possess six electoral votes and it is anyone's guess whether this state will turn red or blue in 2016.
Because of their distance from the other states we are including in this exercise, you will notice that their map includes brands that may not appear on those for other states. It will be important for the candidates to take this into careful consideration.
Nevadans appear to enjoy a lot of brands that have headquarters in the western part of the country, including Arrowhead, Best Foods, Panda Express, Costco, Levi's, and Dreyer's.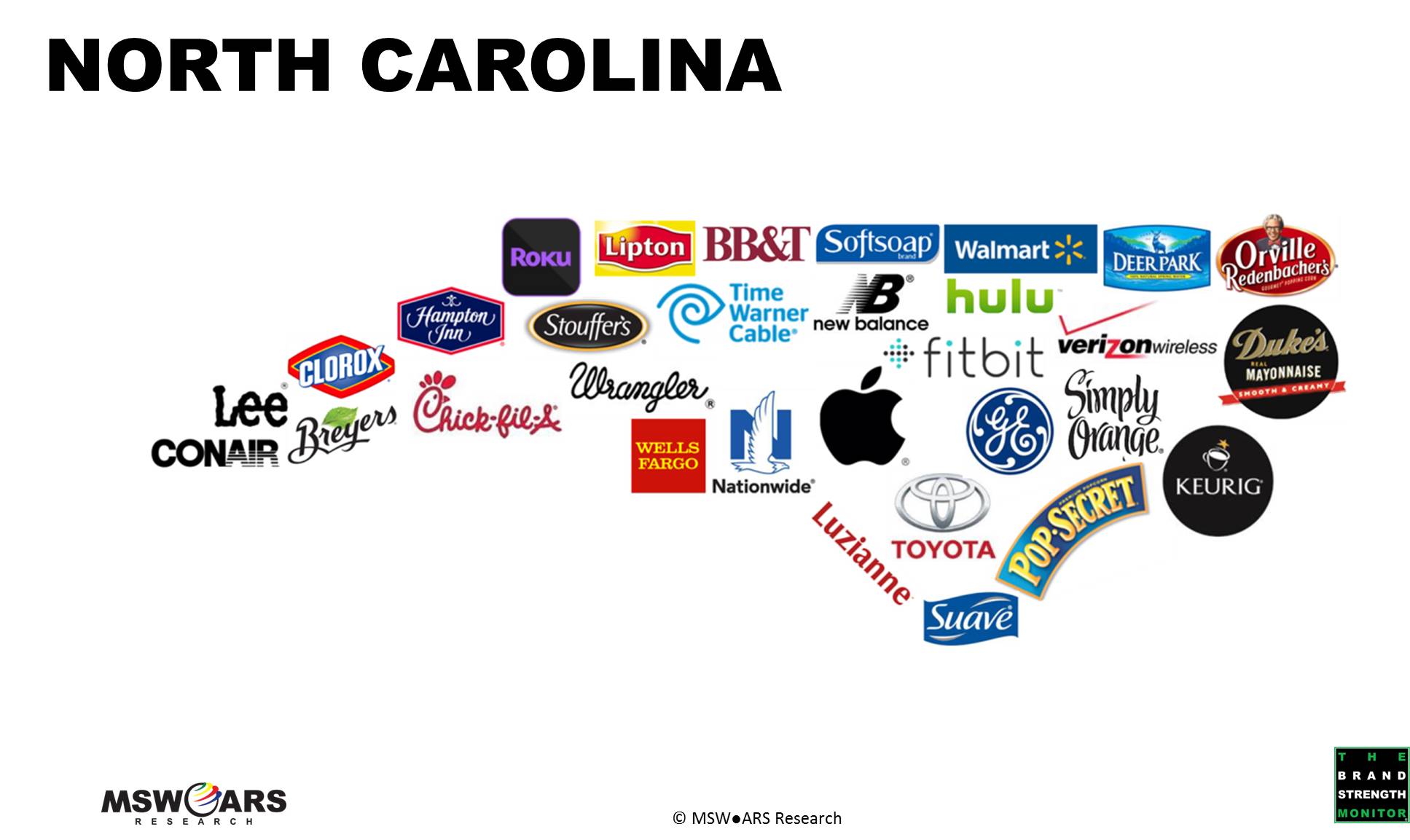 North Carolina is third on our list with 15 electoral votes to their name. Though traditionally not a swing state, demographic changes over the years have led to them splitting the 2008 (blue) and 2012 (red) elections.
North Carolinians are fans of their locally-headquartered bank, BB&T (Winston-Salem), as well as Wells Fargo, which has a strong presence in Charlotte (acquired Wachovia).
Wrangler (Greensboro) and Pop Secret (former sponsor of NASCAR race in Rockingham) also both have closer North Carolina ties than most brands.
Brands from fellow southern states also over-index in North Carolina, such as Duke's, Walmart, Hampton Inn, Chick-fil-A, and Luzianne.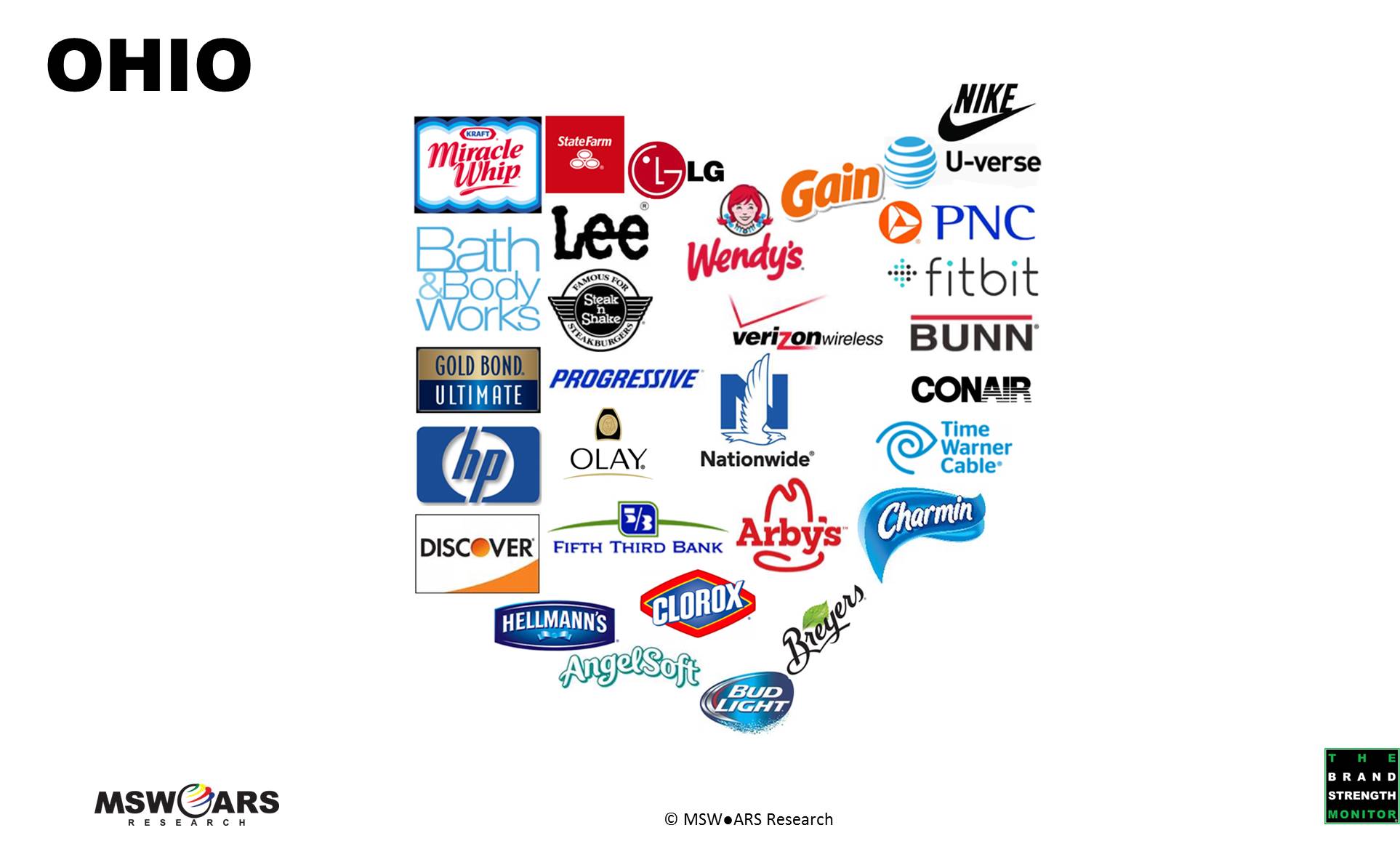 The fourth state on our list, Ohio, has long been a crucial swing state, and 2016 appears to be no different as their 18 electoral votes could wind up in either candidate's column on November 8th.
As seen in other states, Ohioans support their locally-based banks in Fifth Third (Cincinnati) as well as PNC (from close-by Pittsburgh, but with a strong presence in Ohio after their acquisition of Cleveland's National City).
Procter & Gamble, also located in Cincinnati, is popular in Ohio as three of their brands make this list: Charmin, Olay, and Gain. Others are also immensely popular and nearly make this list.
Other popular Ohio based companies include Nationwide (Columbus), Bath & Body Works (New Albany), Progressive (Mayfield Village), Wendy's (Dublin), and Arby's (founded in Boardman).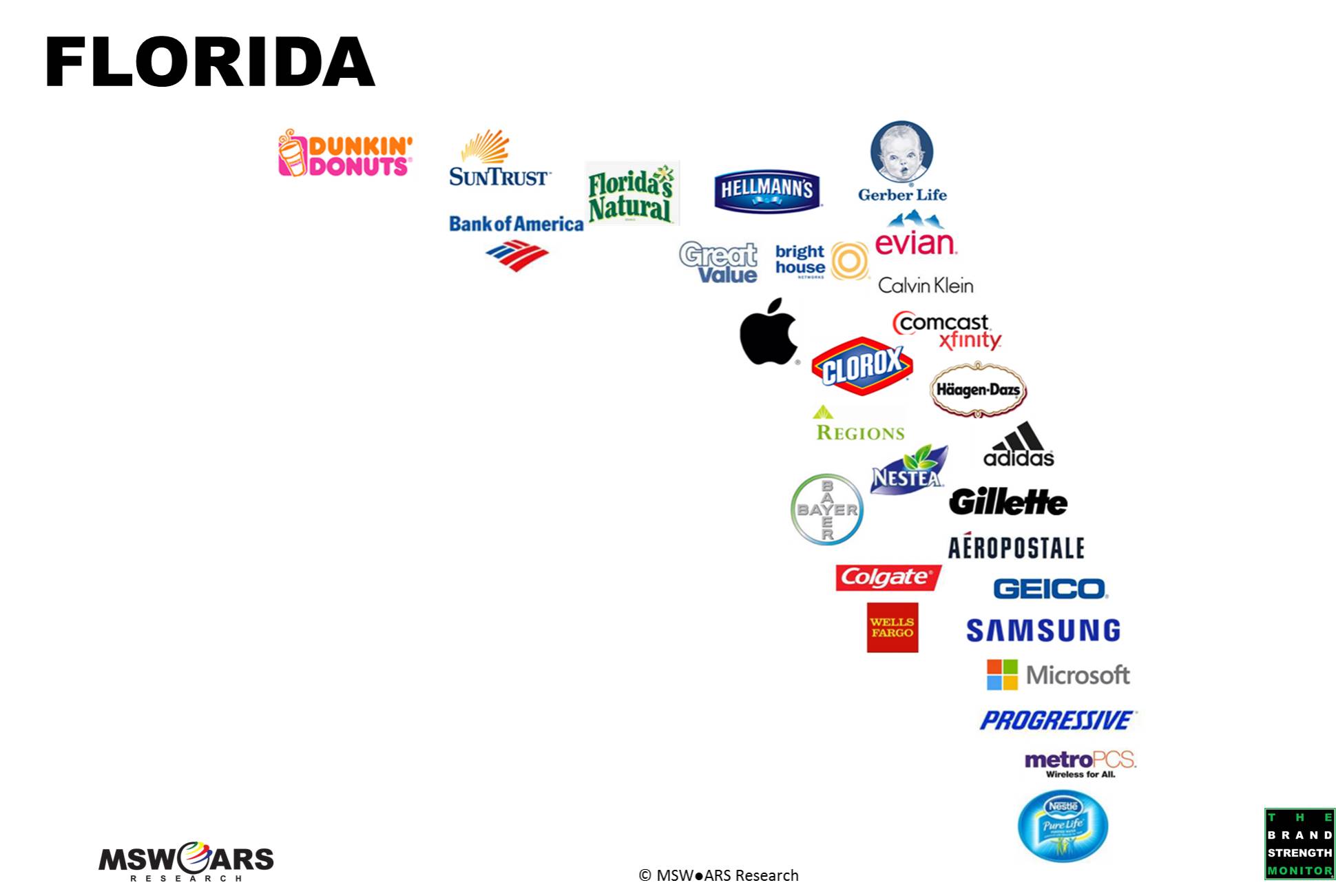 It is difficult to overstate the impact and "swing" of our fifth state, Florida. If you were paying attention in 2000, then you likely remember the recounts, hanging chads, and court drama that occupied TV sets for weeks after election day. In the end, around one-hundredth of one percent of the vote separated the two candidates – and that decided the general election. Since 2000, the results have not been that close, but Florida has still been a divided state that has gone red twice and blue twice. Their 29 electoral votes are badly desired by both political parties.
Upon first glance, it is easy to see one brand with Florida ties: Florida's Natural Orange Juice.
Bright House Networks has a large presence in Florida while having naming rights to two stadiums in Clearwater and Orlando.
Some brands from neighboring states over-index in Florida as well, including SunTrust and Regions.
You guessed it: Maine's 2nd congressional district!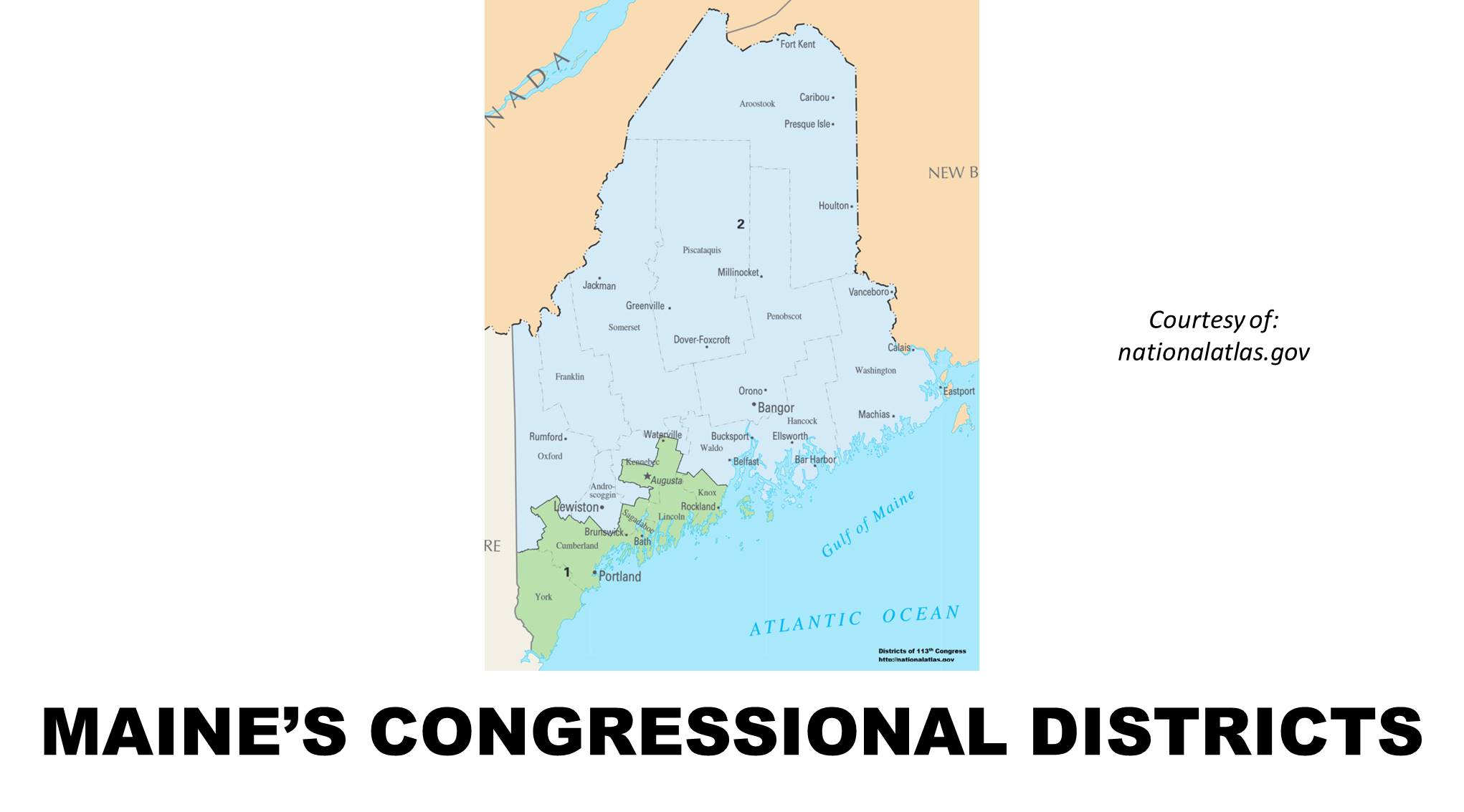 Okay, okay, hear us out. Yes, this Maine district only offers one electoral vote, and no, Maine is not typically considered a "swing state." However, polls are showing a close race between the two candidates and if the nationwide race tightens, then one electoral vote can be crucial.
In case you are not familiar with this region of Maine, here is some quick background:
Maine is one of two states to not award its electoral votes as winner-take-all (Nebraska is the other one). Instead, they split their four electoral votes as follows:

Two go to the statewide winner
One goes to the winner of the first congressional district
One goes to the winner of the second congressional district

The statewide election appears to be safely Democratic, driven by the first district, which is in the southern part of the state and very close to the blue states of New Hampshire and Massachusetts.
The second district includes the towns of Bangor and Lewiston as well as most of the state's area north of the large towns of Portland and Augusta.
Now, with that short civics lesson out of the way, here is the map for Maine: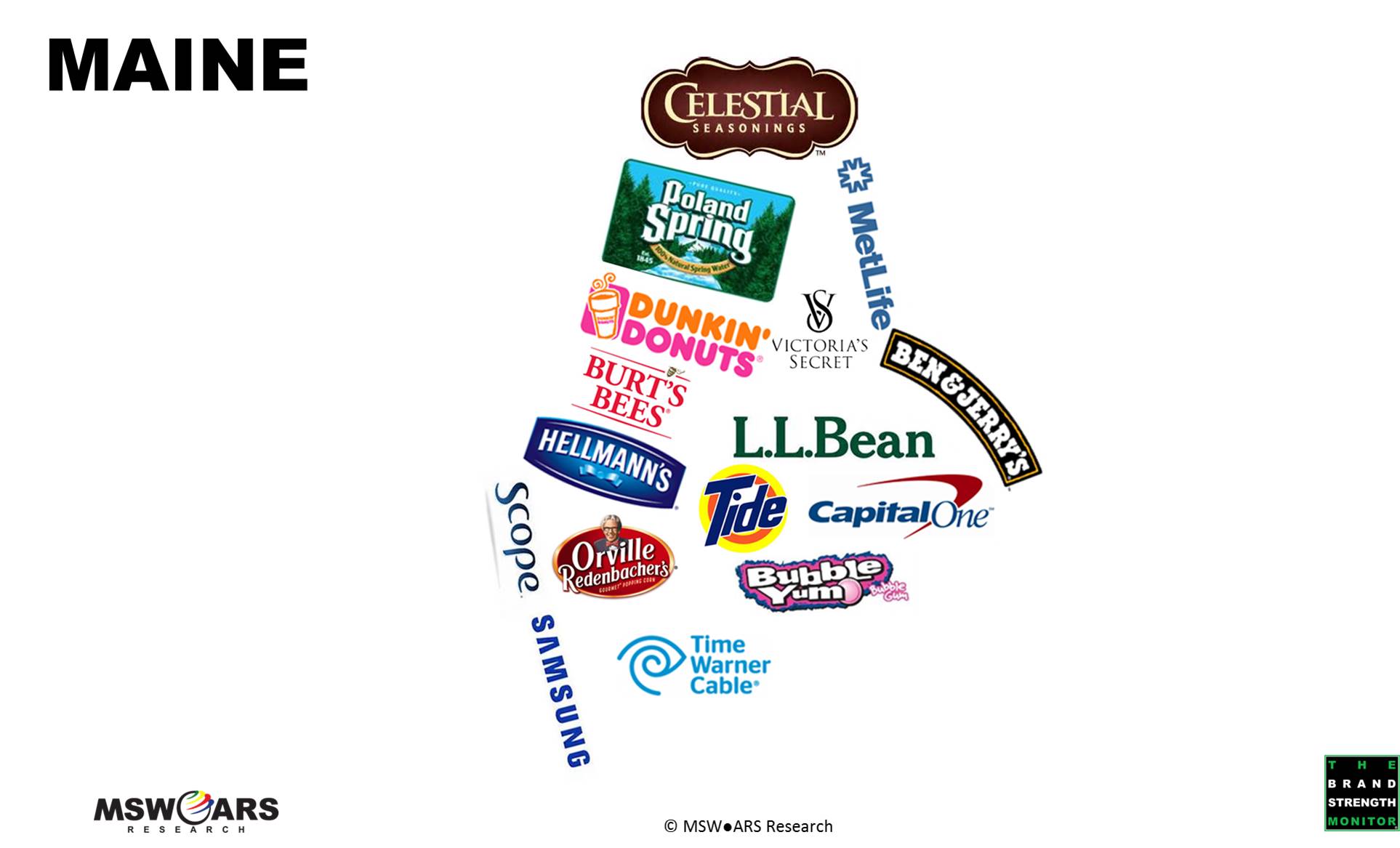 When taking a look at the brands that over-index in Maine, there are two brands based in Maine to which candidates should pay careful attention.
L. L. Bean is based out of Freeport, which is inside the first district, but undoubtedly still popular statewide, as they are nationwide.
Poland Spring is based out of the town of Poland, which is in the second district, meaning that it is probably a "must" for candidates to utilize here!
So, there you have it, a quick guide to securing those late-deciders in the most crucial states. All of this data is just the tip of the iceberg with what is offered in The Brand Strength Monitor (TBSM). It is the ONLY independently validated measure of brand value – available for a fraction of the cost of almost all brand health studies these days. Each month, we standardly collect 1,000 respondents for each category. This brand preference data, when combined with pricing and distribution, is strongly predictive of market share.
MSW●ARS is already tracking this data for the following categories. Let us know if you see
one you are interested in, or if you would like us to begin tracking your category:
Antiperspirants/Deodorants (Women)
Antiperspirants/Deodorants (Men)
Bleach or Laundry Whiteners
Cable or Satellite TV Subscriptions
Casual Dining Restaurants
Facial Moisturizers for Women
Online Movies/TV/Video Streaming Services
Products from a Big Box Retailer
If you see some data you would like to see expanded upon, please send us a note at sales@thebrandstrengthmonitor.com.
Thank you for reading this blog entry. We have had a lot of fun covering "brand elections" in 2016 and hope you have enjoyed them as well.