Throughout the 2016 US Presidential Election season, as a fun way to demonstrate the capabilities of
The Brand Strength Monitor we're going to be sharing some "voting" results. Instead of the traditional
red state/blue state/swing state format, we will be looking at "voting" results for some of the more
than 60 categories on The Brand Strength Monitor Dashboard to determine which brand would win an
election versus its category competitors.
For this "voting", we will be using our Brand Strength Monitor metric (which, by the way, is the ONLY independently validated measure of brand value).
Instead of simply looking at the "popular vote" across thousands of respondents, we decided it would
be a lot of fun to look at results by state Electoral College votes – similar to how the US actually
elects its president every four years.
If you see some data you would like to see expanded upon, please send us a note at
support@thebrandstrengthmonitor.com. Otherwise,
sit back and enjoy as we release each map! We hope you enjoy this series of "TBSM – Brand Election
Results" as much as we enjoy creating them.
Light Beer
The first category we chose to go after was Light Beer, since we figured there
may be some interesting state-by-state learnings. Turns out Bud Light clearly dominates the election
but it isn't a total landslide as many would expect – see the map below.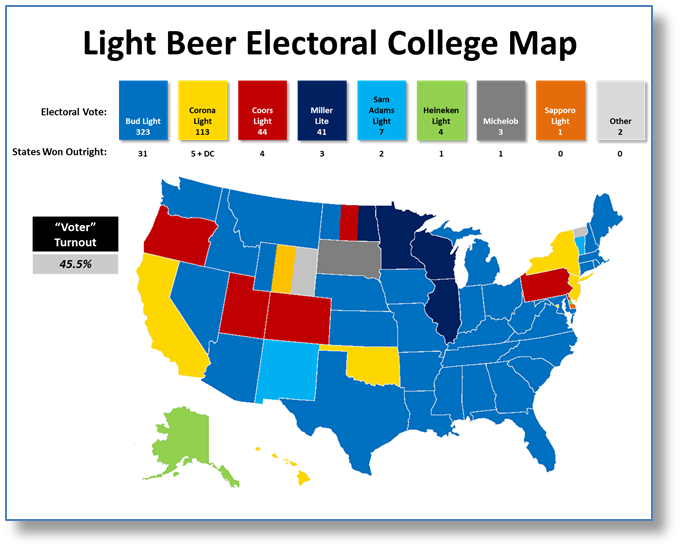 Here are some interesting things we noticed:
As mentioned, Bud Light dominates pretty much from coast to coast, but its strengths are greatest
in the eastern Midwest and the entire South.
Corona Light doesn't win many states, but those include two with a LOT of population in CA
and NY. Upon first glance, this could be driven somewhat by Hispanics in CA, NY, and NJ, but
we'd have to dig further into the data – let us know if you're interested in this.
Coors Light wins Colorado, which isn't unexpected given that they operate the largest brewery
in the world there. They also showed strong support in bordering Utah, Oregon, and Pennsylvania.
The wins in Oregon and especially Pennsylvania were pretty decisive – roughly 25% in each, which
is a lot in this category with its large number of brands.
Miller Lite won the states we'd expect in Wisconsin, Minnesota, and Illinois. That is, the
state with Milwaukee in it and two states bordering the state with Milwaukee in it (and with
large metro areas that reach into WI – Chicago and Minneapolis/St. Paul).
The rest of the states are interesting, though unfortunately we're betting there are some
low base size watchouts in a few of them which are causing odd brands to win. This category is
susceptible to some low base sizes due to:
Voter turnout is less than half – many consumers are either not interested in alcoholic beverages
or not interested specifically in Light Beer.
There are a lot of quality competitors, so it's easier for a state with a low base size to have
a tie for 1st.
Based on the popular vote, it probably isn't too far-fetched for Sam Adams, Heineken, Michelob,
and Sapporo to garner some electoral votes here and there, though we probably wouldn't read
too much into WHICH states we actually have them winning. We don't think Alaska is necessarily
a Heineken stronghold, or Delaware for Sapporo, or South Dakota for Michelob.
Here's the full list of competing brands:
Your Favorite Other Brand
And here's the full list of categories currently available on The Brand Strength Monitor Dashboard –
some of which we'll be highlighting during this election season:
Antiperspirants/Deodorants (Women)
Antiperspirants/Deodorants (Men)
Bleach or Laundry Whiteners
Cable or Satellite TV Subscriptions
Casual Dining Restaurants
Facial Moisturizers for Women
Online Movies/TV/Video Streaming Services
Products from a Big Box Retailer
Once again, if you see some data you would like to see expanded upon, or a category of particular interest,
or if you don't see your category in the list above then please send us a note at sales@thebrandstrengthmonitor.com.