It is difficult to watch or read the news without hearing about political divisions in the US. Whether
they're talking Democrats, Republicans, Libertarians, or the Green Party, there seems to be a lot
of disagreement out there. However, we here at MSW●ARS Research have discovered factions you
may not have even known existed until now – with consumer categories. As a fun repurposing of the
data we collect using our Brand Strength Monitor platform, we are getting to the bottom of
this – one category at a time.
Throughout the 2016 US Presidential Election season we're sharing some "voting" results. Instead of the
traditional red state/blue state/swing state format, we're looking at "voting" results for some of
the more than 60 categories on The Brand Strength Monitor Dashboard to determine which brand would
win an election versus its category competitors.
Instead of simply looking at the "popular vote" across thousands of respondents, we decided it would
be a lot of fun to look at results by state Electoral College votes – similar to how the US actually
elects its president every four years.
In the heat of the summer of an election year, little is certain. That is, unless you're wondering what
is the most popular Toilet Paper in the US. When compared to the election results we have
already shared for Light Beer and especially Bottled Water,
there is not nearly as much drama with the Toilet Paper category (aka Bathroom Tissue). It is very
much The Charmin Show, though other brands put up a fight in various regions of the country – including
one that is able to capture a handful of states in a particular area.
Charmin wins in a landslide that is close to those seen for Franklin D. Roosevelt in the 1930s
or Ronald Reagan in 1980s – coming on top in 45 of 50 states (plus DC).
These include very large margins of victory in every part of the country: 25 points in Texas
(South), 19 points in Florida (East), 26 points in Washington (West), and 18 points in Michigan
(Midwest) – just to name some.
Charmin wins every state in the Pacific, Mountain, and Central Time Zones, as well as Alaska
and Hawaii.
Scott tissue, founded in Philadelphia, Pennsylvania way back in the day, comes out on top
in a handful of Northeastern states, but still finishes a distant second to Charmin nationally.
However, Scott's strength in the Northeast is the clearest challenge to Charmin nationwide as
they win the large states of New York, Pennsylvania, and New Jersey.
In addition, Scott also narrowly loses a nail biter to Charmin in Massachusetts, the largest
remaining Northeastern state. They also over-index versus their national average in Maryland
and Virginia, which would have expanded wins further down into the Mid-Atlantic region.
Please note that this did in fact include other popular brands like Angel Soft, Cottonelle, and Quilted
Northern, and while they oftentimes have good showings from state-to-state, they are not able
to capture an electoral college vote. This is part of the cruel nature of using the electoral
college approach where you can be a solid 2nd or 3rd place in most states and not have a lot
to show for it in the electoral vote count. A recent example of this occurred in 1992 when impactful
third party candidate Ross Perot garnered nearly 20% of the national vote, but did not come on
top in any individual state. It is entirely possible to be an impactful brand in a category without
winning any electoral votes in this approach.
Angel Soft has their best showings in some Southern states such as South Carolina,
Kentucky, and Tennessee – each with 20%+ choice for them.
Cottonelle fares best in the middle of the country while achieving 20%+ choice in
Arkansas, Iowa, and Nebraska.
Quilted Northern achieves 20%+ in Mississippi, though nationally they tend to do their
best in the Midwest (ex: Missouri, Wisconsin) and interior West (ex: Wyoming).
Keep in mind that this exercise measures brand preference and does not necessarily account for pricing
and distribution. However, when combined with pricing and distribution data, TBSM brand preference
data is very predictive of a brand's market share. If you are seeing an outage in your pricing,
distribution, and market share, TBSM has been proven to help fill in that gap.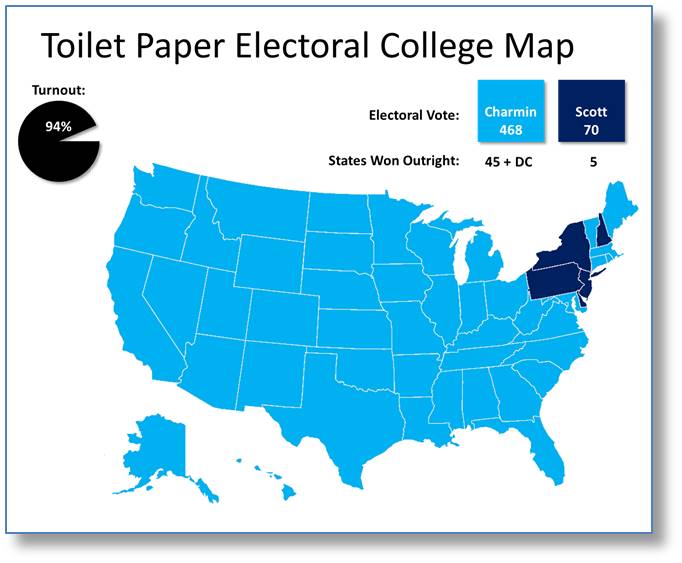 As previously mentioned, this data is a by-product of what we standardly collect in our TBSM (The
Brand Strength Monitor) platform. It is the ONLY independently validated measure of brand
value – available for a fraction of the cost of almost all brand health studies these
days.
Each month, we collect 1,000 respondents for each category, which standardly include roughly the following demographic breakouts for brand choice and category penetration:
Millennials (Age 35 and Under): ~400
Non-Millennials (Age 36 and Over): ~600
In addition, the following demographics are also standardly available in many different splits:
Yes/No Children in Household
If Yes, Age of Children in Household
Some High School, High School Diploma, Bachelor's Degree, Master's Degree, etc.
Split 15 ways from $7,500 or less to $200,000 or more
Single, Married, Domestic Partnership, Divorced, etc.
States (as we used in our map above)
All 50 states + DC, as well as custom regions – if desired
The brands included in this Toilet Paper exercise are:
MSW●ARS is already tracking this data for the following categories. Let us know if you see
one you are interested in, or if you would like us to begin tracking your category:
Antiperspirants/Deodorants (Women)
Antiperspirants/Deodorants (Men)
Bleach or Laundry Whiteners
Cable or Satellite TV Subscriptions
Casual Dining Restaurants
Facial Moisturizers for Women
Online Movies/TV/Video Streaming Services
Products from a Big Box Retailer
If you see some data you would like to see expanded upon, please send us a note at sales@thebrandstrengthmonitor.com.
Thank you for reading and we will continue to release maps for new categories as the 2016
US Presidential Election approaches.