Guys, in case you hadn't noticed it's that time of year again. Love and romance are for a day expropriated by rampant commercialism to bring you the ultimate Hallmark holiday – Valentine's Day. For those of you thinking of sitting this one out, you might want to think again. According to an estimate from WalletHub, fifty-three percent of women say they would break up with their significant other if they got nothing for Valentine's Day. Whether you believe that figure or not, it's probably best not to take the risk.
While a handmade card or a few stanzas of romantic poetry composed on your lunch hour are sure to impress, be prepared to open the wallet. For benchmarking purposes, this year's Valentine's Day survey by the National Retail Federation (NRF) found expected spending to reach about $18.2 billion in the US, which translates into an average of $136.57 per consumer. The NRF survey indicated that consumers intend to spend on a wide variety of items for their beloved this Valentine's season, including jewelry, a night out, tickets for an "experience" (concert, sporting event, etc.), flowers, clothing, gift cards and greeting cards. But the item cited most often – by exactly 50 percent of those surveyed – was candy.
While perhaps not the most inspired option, candy is surely a safe choice for most of us. Yet perhaps one should not entirely trust one's instincts and personal tastes, particularly for guys looking to impress their wives, girlfriends or other significant women in their lives. Rather, we might want to look at some data. Fortunately, The Brand Strength Monitor from MSW●ARS Research has been tracking preference in the chocolate candy category since January of last year. In fact, we have been collecting brand preference from among 1000 adults (equally balanced between men and women) each month for the past 13 months, providing a robust view of the category.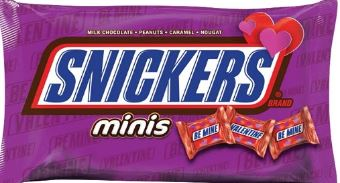 You may have noticed the special Snickers Valentine pack and were thinking of grabbing a bag. After all, who doesn't love Snickers – I sure do. But you may want to think again. In fact, the most highly preferred brands of chocolate candy are completely different for women versus men. Turns out, women's tastes are run more to the premium end of the spectrum. As can be seen in the chart below, the four brands most preferred by women in the U.S. are, in order, Godiva, Ghiradelli, Ferrero Rocher and Lindt. In contrast, men would rather snack on Snickers, Reese's, Hershey's and Almond Joy.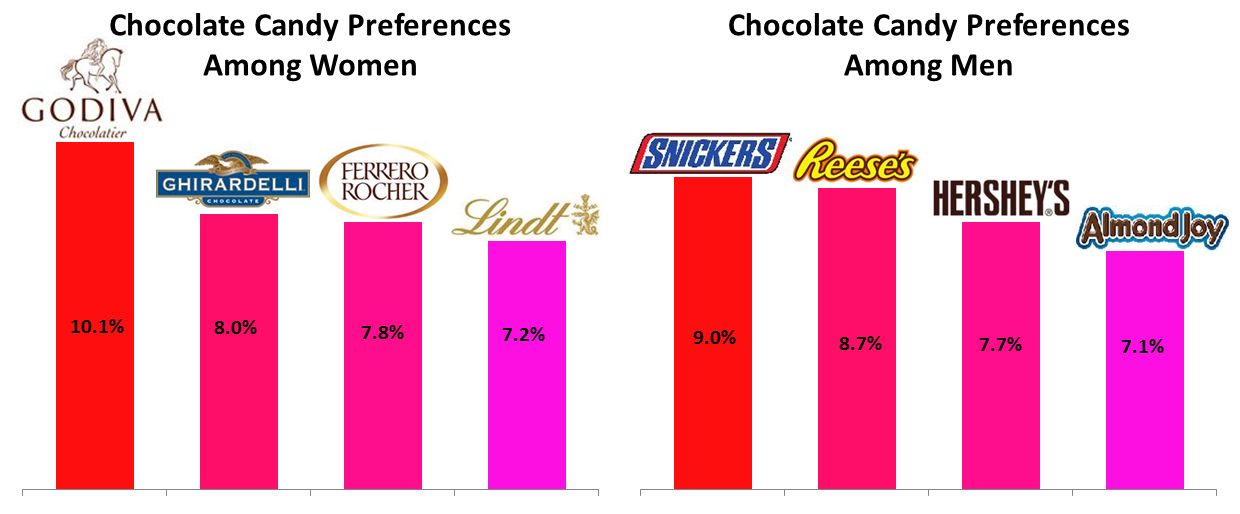 Of course women are not a monolithic demographic, so we have some additional advice to help tailor your choice. First, women of the Millennial generation are most likely to select Ferrero Rocher as their top brand of chocolate candy, while those from preceding generations tend to prefer Godiva.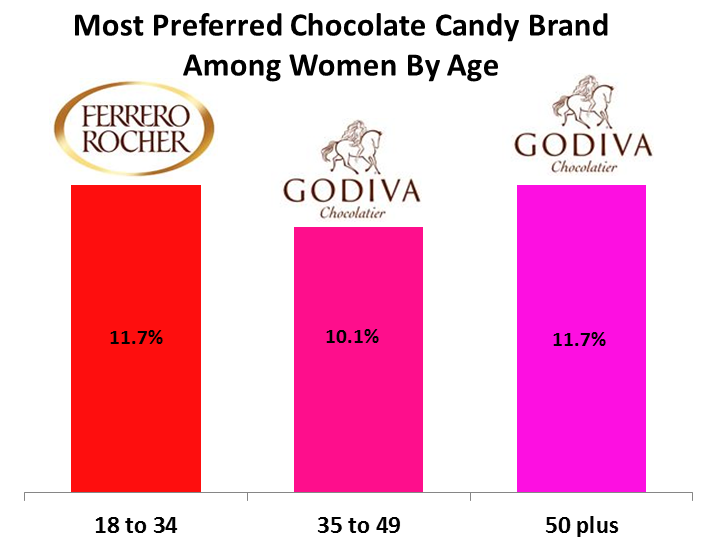 Regionally, a new player emerges for particular consideration among those who reside in the western part of the country. While Godiva holds sway among women in the eastern and central portions of the country, See's Candy is the number one confectionary brand in the hearts of women in the west.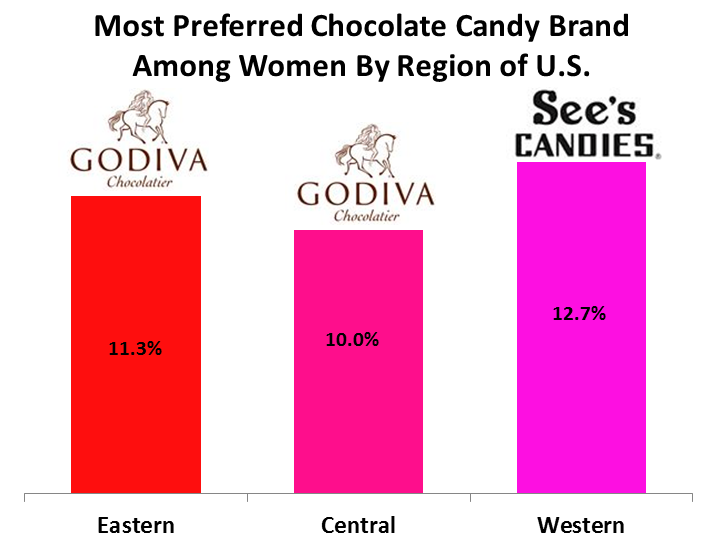 So while you're out doing last minute shopping for Valentine's Day, go ahead and pick up a bag of Snickers – but save it for Halloween.
And remember, while The Brand Strength Monitor can help to prevent missteps in your romantic life, it's nothing compared to what it can do for your brand! For more information on The Brand Strength Monitor please send us a note at sales@thebrandstrengthmonitor.com.
If you would like to know more regarding the data and platform used here, please contact us at sales@thebrandstrengthmonitor.com
Our TBSM metric is the ONLY Independently Validated Measure of Brand Value.