What do you get when you cross a chicken with a cow? I'm not sure, but we're about to find out. About two weeks ago Restaurant Brands International (RBI), parent company of Burger King, announced the acquisition of fried chicken purveyor
Popeye's for $1.8 billion.
In an industry that is reported to be facing slowing domestic revenue growth, this is a merger of two franchises that have recently reported strong results. Burger King (which comprises 74-percent of RBI's overall revenue) reported
system-wide revenue growth of 8.5-percent in Q4 of 2016, while same store sales alone were reported to grow 2.8-percent in the same time period as RBI realized a 27-percent rise in its stock price in 2016. At the same time, Popeye's
also reported strong Q4 results with system-wide same store sales increasing 2.8-percent including a surge of 3.0-percent in the domestic U.S. market.
In fact, these brands' strong finish to the year was foreshadowed by data from The Brand Strength Monitor (TBSM) from MSW●ARS. We have been tracking the Quick Serve Restaurant (QSR) category with TBSM since the beginning of 2016.
Through TBSM (the only independently validated measure of brand value), brand preference is collected monthly from among 1000 demographically representative adults.
Brand Preference Trends
From January 2016 through January 2017, Burger King and Popeye's were two of the very strongest performers of all QSR restaurants tracked by TBSM in terms of growing share of preference among those active in the category. As
illustrated by the following chart, preference for Burger King climbed throughout the year while Popeye's share of preference was somewhat choppy before consolidating gains over the last several months.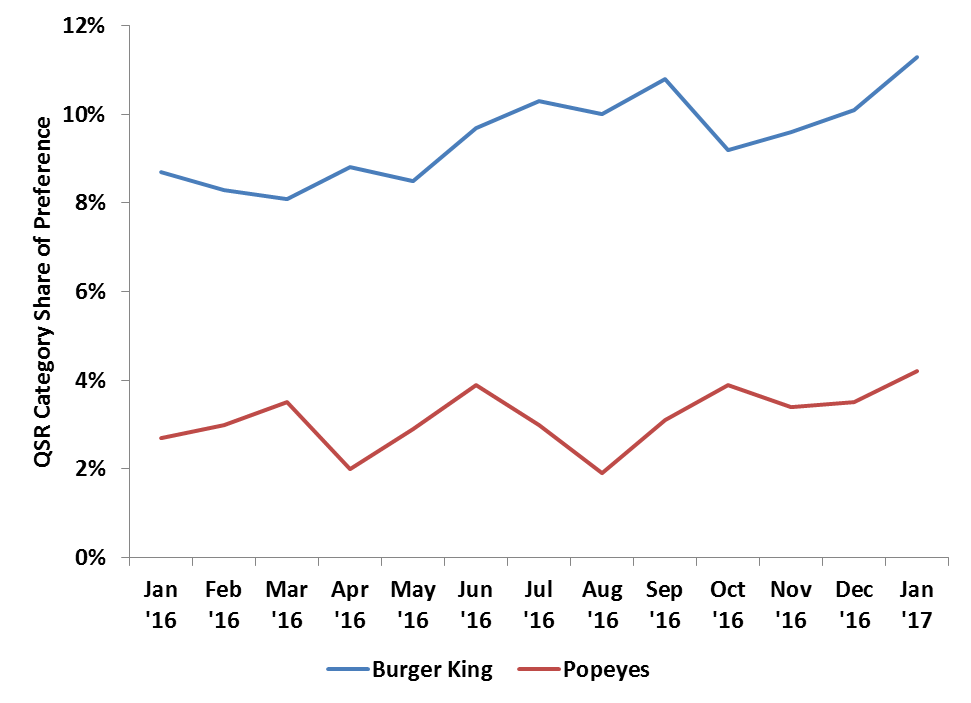 Examining the TBSM data over the entire 13-month time period, it is interesting to note that these franchises have very different strengths and hence the combination might provide synergy which could benefit each brand.
As illustrated in the graphs below, consumers who prefer Burger King tend to be young, male, Caucasian, with kids, relatively higher income and more likely to live in the Northeast. In contrast, those most loyal to
Popeye's are most likely to be age 50-plus, female, more ethnically diverse, less likely to have children, with lower incomes and more likely to live in the South or Midwest.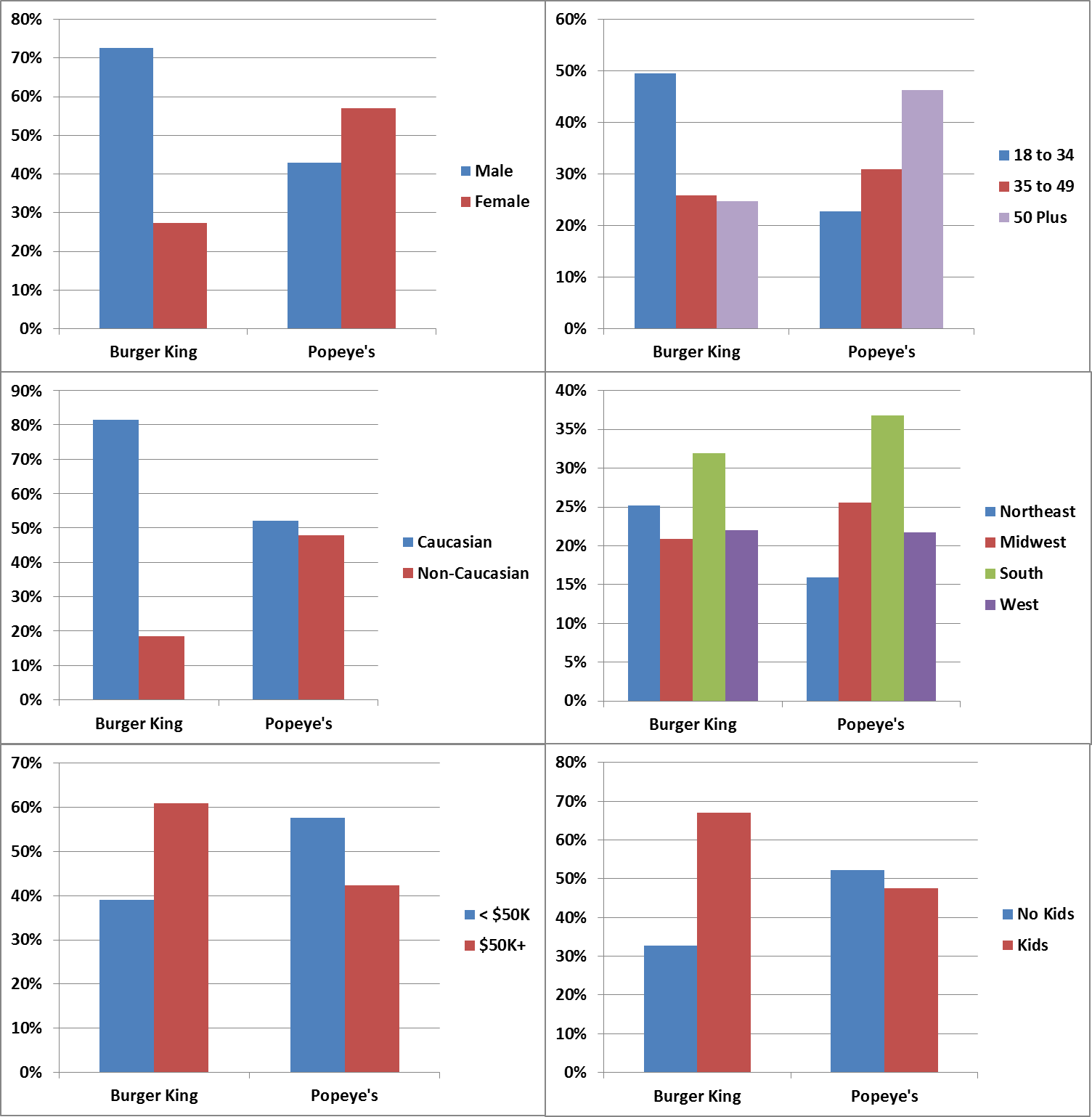 Examining preference levels for the first three months versus the final three months of the time period analyzed shows that Burger King grew preference overall by building on its strengths. Specifically, preference levels
surged among those respondents who are male, have children, have relatively higher incomes and are Caucasian. Note however that the franchise saw strong gains not just in its Northeast stronghold but also in the West.
And in fact preference increased most among respondents age 35 to 49, though the franchise still remained strongest among those age 18 to 34. These gains among younger patrons with children dovetails nicely with some
of the chain's menu additions over the past year, including the introduction of hot dogs and kid friendly mashups like the Cheetos Chicken Fries that Burger King added last September.
On the other hand, preference for Popeye's grew more evenly across demographic segments. The exceptions included particularly strong gains among African Americans and Hispanics as well as among those aged 35 to 49.
While Restaurant Brands International, which is known for generating well above industry-average margins, will surely work to bring its expertise at efficiency to Popeye's; and the prospect for greater international
expansion is a priority for each franchise; they are also adding another brand that has been strengthening its place in consumer's hearts – and stomachs – in the domestic market. Now that sounds like a compelling
combination.
To find out more about how The Brand Strength Monitor can uncover the dynamics of consumer preference in your category, please send us a note at sales@thebrandstrengthmonitor.com
Our TBSM metric is the ONLY Independently Validated Measure of Brand Value.